A life at sea | News from Shetland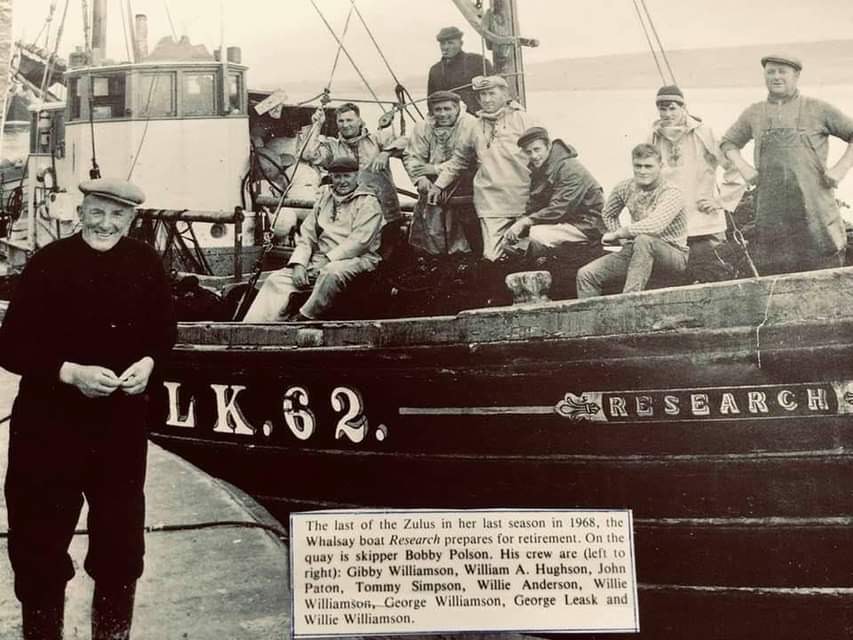 [ad_1]
WHEN John Arthur Irvine began his fishing career in 1959 at the age of 15 as a cook on board the Fortuna there was little technology that could help humans find the fish and also find their way in the vast ocean.
They worked close to shore and it was essential to learn from the hands of the elders how to navigate using fishing meids. When the first Decca navigators arrived they helped a bit, but they fell far short of the satellite navigation that is the norm today.
Recalling those early fishing trips to John Arthur, now 77, he said it was vital to take into account the lessons the older generation had passed on.
"We didn't even have a radar when we first went to Aberdeen, with haze building up half the time. The foghorn was at the end of the pier and someone was coming out to listen to it and we were heading towards it, "he recalls.
74-year-old former skipper of the Research, Willie Williamson, nods to remember those days when you had to listen to your way through the fog.
"The tastes of the old Research had no radar, I remember coming from west of the Flugga with herring going to Lerwick. It was a thick haze and I think we landed almost three times!
Over the next 50 years, the two captains were instrumental in bringing transformational change to the fishing industry at Whalsay, investing in new and larger vessels at critical times, spending nights white people on the bridge and worrying about loan repayment terms.
For John Arthur, there was never any question that the continual need for modernization was the only way to survive in an ever-changing industry.
"After spending a few months in the Fortuna, I entered the first Zephyr, which was sold in 1976. This boat was only 64 feet long, a small seine, there was no shelter on the deck, "he says, describing the early years.
"My father retired two years before we sold the first Zephyr. I was a skipper for a few years and then we got the first new boat for the new owners, which was an 87ft whitefish trawler.
"We had this boat for four years and then we sold it and we got a steel boat made in Norway, a slip net fishing for mackerel and herring as opposed to whitefish, a big change.
"We struggled for a few years to keep up with the payments. This boat had a capacity of 500 tons. Then we had another boat, even bigger, it could hold about 16 to 17 hundred tonnes of blue whiting.
"You just had to keep adapting all the time. We had four Zephyrs before I retire and now we have another one.
Switching from whitefish to pelagic was not something they had "never done before," he continues, describing the financial implications of the move as "significant".
"To get a boat that expensive, you have to deal with payments and the loan came from Norway. It was supposed to be a "low interest loan", but it was 7.5%. The interest here at that time was twice that. We never had financial aid, "he recalls.
"When we went to get the first boat we owned, we must have found £ 12,500 each. You could have built a big house with that.
"It was a big bet, and an even bigger bet when we got the steel boat. £ 1.6million was a huge amount of money back then.
"It was stressful and then we couldn't sell our old boat for a while so we had to get a loan from Clydesdale Bank which was twice as much.
"There were a lot of people who thought we had lost our mind. If we had gone bankrupt they would have taken everything we had. Our house would have disappeared, everything would have disappeared, we would have the clothes in which we stood.
"Even my dad took a half share with us just to help us out, they could have knocked him out too if it hadn't been in a good way. The only help we got was from HDL guys like Ritchie Simpson, he was a big help.
"Most of my fishing time was spent paying off loans."
Willie, meanwhile, concedes that the compulsion to face payments came to him on occasion. His most notable period was buying their used boat for £ 11,000 five years later by buying the Adventurer for £ 180,000.
Sometimes "there weren't always a lot of fish" resulting in many sleepless nights, while 36 hours in the wheelhouse was a "common" occurrence for him.
Like John Arthur, people had questioned his intentions "they didn't see you could ever pay for it."
"People would ask me if I had 'really thought about this'. I said 'Well we just have to buy the boats and if we don't pay for them then it's just too bad. We have to do our best, "he said.
Today's generation has their own challenges to enter the fishing industry. John Arthur explains: "The downside right now for young people is that they have to buy licenses and buy quotas.
"When I first entered the fishing (…) Everything you needed to get a down payment on the boat itself, then get the fishing gear and go.
"Now they have to buy a license and buy quotas and it's more expensive than the boat. It makes things much more difficult.
"I think fishermen are at the bottom of the ladder for help, but they're good at helping themselves if they get the chance.
Willie says he thinks it is now "almost impossible" for young people to enter the industry.
He goes on to criticize the Conservative government and its long-standing approach to Brexit: "It's really unfair the way these pelagic boats are treated compared to the Icelanders, the Faroes and the Dutch.
"They fish around here all the time, yet our boats are moored 10 months a year, the Faroese fish like 10 months a year, that doesn't seem right.
"They [the government] to have it in place for 2026 to try to sort it out, I think they could have done it sooner than that.
"There's a lot more cod here than there ever was, you can't get rid of it, but they have to import cod from Norway and Iceland. It really doesn't make sense.
Become a Shetland News supporter
News from Shetland asks its many readers to consider starting paying for their fix of the latest local news delivered straight to their PC, tablet or mobile phone.
Journalism comes at a price and because that price goes unpaid in today's rapidly changing media world, most publishers – national and local – are struggling financially despite very healthy audience figures.
Most online publishers started charging for access to their websites, others took a different route. Shetland News currently has more than 490 supporters who all make small voluntary financial contributions. All funds are used to cover our costs and further improve the service.
Your contribution will ensure News from Shetland can: –
Bring you the headlines as they happen;
Remain editorial independent;
Give a voice to the community;
Further increase site traffic;
Research and post more in-depth news, including more Shetland Lives features.
If you enjoy what we do and are very committed to impartial local journalism, then please become a supporter of News from Shetland by making a single payment or a monthly subscription.
Support us from £ 3 per month – it only takes a minute to sign up. Thank you.
Support Shetland News
Already endure? Log in to hide this message.

[ad_2]