As Indian trawlers steal Sri Lankan fish, Chinese sea cucumber company offers lifeline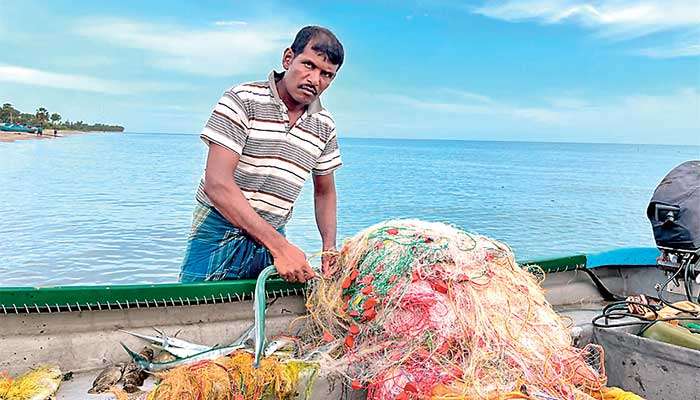 Sri Lankan fisherman Thankarasa Prakash
Fisherman Velupillai Rasaratnam pushes his wooden boat through the Northern Province of Sri Lanka. He can no longer afford fuel for a motorized boat
---
Indian boats illegally poach in Sri Lankan waters, taking advantage of the country's economic crisis and struggling fishermen

Now a Beijing-owned company is helping them grow sea cucumbers instead, for export to mainland China, Hong Kong and Taiwan.
---
A bucket of sea cucumbers in Sri Lanka
---
www.scmp.com: At 7 a.m., Velupillai Rasaratnam, pushes his 15-foot-long wooden boat closer to the shore of Karainagar with the help of a young fisherman in Sri Lanka's war-torn Northern Province.
Dressed in a black T-shirt and red shorts, the septuagenarian rows for about an hour, catching some gray mules that he plans to sell for Rs. 700 ($2) at a local auction.
An hour is as far as his weary arms can carry. And as Sri Lanka reels from an acute economic crisis, it is increasingly clear that fishermen like Rasaratnam have borne the brunt of major fuel shortages.
With the price of kerosene quadrupling to Rs. 340 ($0.93) per litre, "I couldn't take my motorboat out to sea. Therefore, going too far was not possible," Rasaratnam said, adding that he only goes fishing twice a week these days.
Before the country went bankrupt, he would go out every day to catch around 5kg of fish which earned his family of five around Rs. 5,000 rupees ($13.89).
But kerosene was in short supply even before the August price hike, forcing many fishermen to buy it at Rs. 1,500 ($4.17) on the black market.
The availability and cost of fuel are not the only worrying issues anglers face. Over the past two decades, more and more Indian boats have come to Sri Lanka's territorial waters to fish illegally.
"While we are confined to our homes for lack of kerosene, Indian fishermen are taking away all our resources," Rasaratnam said.
Illegal fishing
Fishermen from southern Tamil Nadu in India and the Northern Province of Sri Lanka are legally allowed to fish in the Palk Strait, a narrow strip of water between the two countries.
Three months ago, a fisherman's representative from Mannar district in the Northern Province called on the Chief Minister of Tamil Nadu to stop Indian fisherman from poaching in the waters of his smaller neighbour, especially at a time where Sri Lanka is going through an economic crisis.
But this call was ignored. Last month, the Sri Lankan Navy arrested at least 16 Indians for illegal fishing after they trespassed in the island nation's waters.
Ambal Fishermen's Cooperative in Karainagar, President Kandasami Rajachandran said that since the arrival of Indian trawlers, Sri Lankan fishermen have brought in just one basket of fish in the last decade – weighing barely a kilo or two – whereas they came back with six to eight earlier.
Foreign trawlers usually take away many types of sea life, including needlefish, emperor fish, and shrimp.
Rajachandran said the biggest catch that day was three stingrays weighing around 26kg each. "But we used to have much bigger stingrays before, now they're being swept away by the Indian trawlers."
Trawlers began entering Sri Lankan waters in 2002, he said, when northern fishermen were barred from fishing as civil war raged between armed Tamil separatists and the army. Sri Lankan.
Their livelihoods were further affected by the devastating Indian Ocean tsunami in 2004, he added.
Thankarasa Prakash, 40, another fisherman, who has often seen Indian trawlers near Karainagar, believes his government has failed to address the problems they cause because Sri Lankans whose livelihoods are affected are for the mostly Tamils, an ethnic minority in the majority Sinhalese country.
However, Sri Lankan Fisheries Minister Douglas Devananda, a Tamil politician, said the government had made several attempts to curb Indian fishing, but the efforts had failed.
A new lifeline?
In the context thus posed, a Chinese company rushed into the breach.
More than 1,000 fishermen in three northern districts – Mannar, Kilinochchi and Jaffna – are now farming sea cucumbers, a sea creature often considered a delicacy in Chinese cuisine, in a venture between Gui Lan Hatchery and National Aquatic Development Authority of Sri Lanka.
The company, established in 2015, is led by four directors from mainland China and Taiwan.
Devananda said he also encourages fishermen to explore other "alternative sources of livelihood" such as seaweed and bass farming.
Taiwanese co-owner and administrative manager of Gui Lan, Steven Gong, who has lived in Sri Lanka for more than 30 years and has three children with his Tamil wife, noted that start-up costs for such operations are low, with an initial investment of Rs. 500,000 ($1,369) per acre for the establishment of infrastructure for a period of five years.
Fishermen also receive financial assistance from the International Labor Organization to purchase juveniles from the hatchery.
Gong said his company provides growers with 60-day-old sea cucumbers weighing 1 gram for Rs. 60 each ($0.16).
"Farmers, including some fishermen, tend the juveniles for 10 months until each weighs about 250 grams, then they are sold for Rs. 1,500 rupees ($4) to exporters," Gong said. "But [those] growers who tend sea cucumbers for a few more months until they weigh 500g each, sell them for around Rs. 3,000 rupees ($8).
In 2021, Sri Lanka exported around 336 tonnes of sea cucumbers – prized for their soft interior and chewy skin – to Singapore, mainland China, Hong Kong and Taiwan.
The government this year approved a large-scale commercial sea cucumber project of more than 5,000 acres in the north and
Eastern districts.
The chairman of the Jaffna Sea Cucumber Farmers Association, Mr. Thivagaran, said sea cucumber farming had given a ray of hope to fishermen who were suffering heavy losses.
"Annually, a sea cucumber farmer can earn a guaranteed sum of Rs. 1 million ($2,830), but a fisherman barely earns Rs. 480,000 ($1,333), which is not guaranteed in the current economic scenario and at a time when Indian trawlers seem unstoppable," Thivagaran said. .
India–China rivalry
Critics have also raised concerns about the sea cucumber initiative, as it comes at a time when China – one of Sri Lanka's biggest creditors with at least $3.5 billion in outstanding loans – is partly blamed for pushing the country into a debt crisis.
Traditionally, India has been seen as closer to northern Sri Lanka, largely because of the common Tamil ethnicity, but China has also made inroads in the region as the two superpowers compete for a strategic advantage over the island nation.
Last year, the Chinese ambassador to Sri Lanka, Qi Zhenhong, distributed rations to fishermen affected by Indian trawlers. In May this year, at the height of the economic crisis, India sent 15,000 liters of kerosene to fishermen in northern Sri Lanka.
Jaffna economist Vivekanandan Niranjan said Sri Lanka allowed the Indo-Chinese "geopolitical game" to play out in its territory due to the lack of political and economic stability.
Niranjan added that New Delhi and Beijing will use the island nation to settle scores until it returns to normal.
"But both countries must understand that Sri Lankans are worried if they take advantage of the island's current instability and use its territory as a playground," he said.
Photo by Sonia Sarkar
(Source: https://www.scmp.com/week-asia/economics/article/3191231/indian-trawlers-steal-sri-lankan-fish-chinese-sea-concumber-firm)
---