Debate generated on the use of EU funds for the conversion to clean fuels and the response to the Ukrainian crisis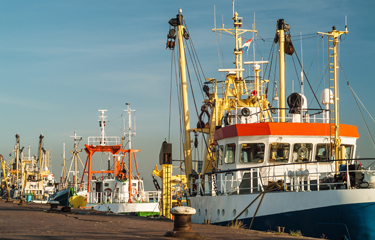 The president of the European Association of Fish Producers' Organizations, Esben Sverdrup Jensen, has called for the revision of parts of the European Union's Common Fisheries Policy to simplify the transition of the fishing fleet from l EU towards the use of cleaner fuels.
With conventional fuel prices soaring following the invasion of Ukraine, Sverdrup Jensen said the EU should relax boat capacity limits "because ships that use alternative fuels like ammonium require fuel tanks twice the size of those using current fuels."
"Since new ship capacity is not allowed, the only solution is to buy many smaller ships from operators that we are supposed to celebrate," he said, noting that 2022 has been designated by the United Nations as the Year of Artisanal Fisheries.
Sverdrup Jensen spoke on Tuesday, April 26 at Seafood Expo Global in Barcelona, ​​Spain, during a panel titled "From Revolution to Evolution: The Fisheries and Aquaculture Market in a Post- COVID-19".
Also present on the panel was Christophe Vande Weyer, Policy Officer at the Directorate General for Maritime Affairs and Fisheries of the European Commission. He did not respond directly to Sverdrup Jensen's request, but said the EC had put in place a flexible support mechanism for fishing companies and aquaculture producers to help them operate during the COVID-19 pandemic. On March 25, the EC extended this funding scheme to give its Member States the possibility of offering financial compensation to operators in the fisheries and aquaculture sectors "to mitigate the effects of market disruption , in particular for their lost income, and for costs incurred.
Seafood producers and seafood storage facilities are also eligible for funding under the crisis mechanism of the European Maritime, Fisheries and Aquaculture Fund (EMFFA), and on April 13 2022, the EC has also presented a proposal to give the same flexibility to the funds allocated. the European Maritime and Fisheries Fund (EMFF), which is funded by the EU Common Fisheries Policy.
Many European fishing companies quickly took advantage of these funding opportunities when soaring fuel prices following Russia's invasion of Ukraine sent many European trawlers back to their home ports, Vande Weyer said. .
"We were able to react quickly to the last crisis," he said. "Fuel costs have risen dramatically, while aquaculture and processing face higher energy bills. the access to [aquaculture] inputs like sunflower oil and wheat.
Photo courtesy of Martin Bergsma/Shutterstock