Fishing: North Atlantic, a PlayStation, Xbox and PC simulation series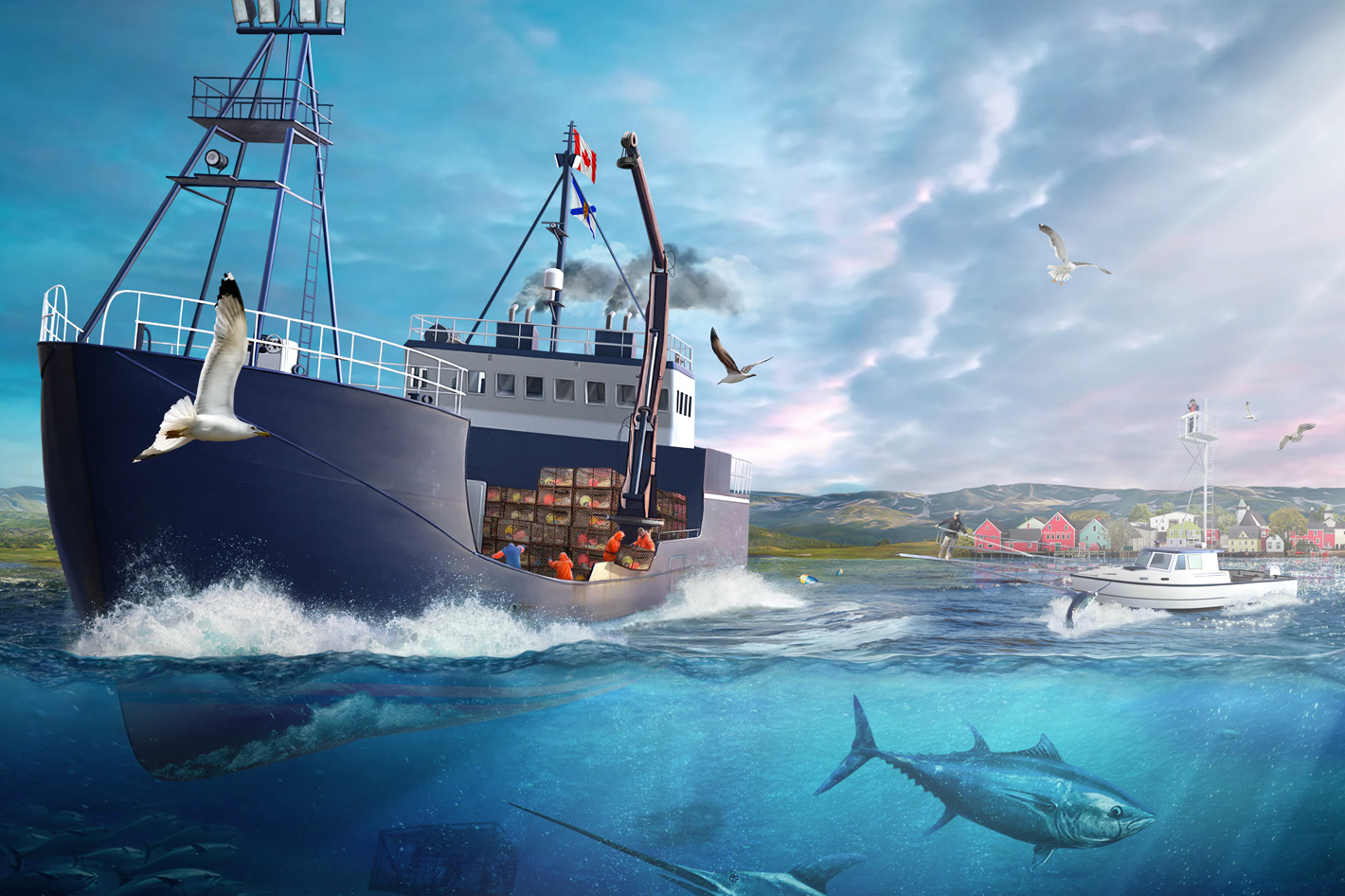 While there are plenty of fishing games on the market, few offer you the chance to don your captain's hat and take the helm of the F/V Viking Power, a fine-tuned scallop fishing vessel. cutting edge technology.
It's true! PlayStation consoles offer more than shooters or racing games, and there are also titles that deal with fishing. There are dozens of fishing simulations for the solo fisherman, and if you're interested in the subject, search for the term online to discover a wealth of options.
But the fishing industry is not forgotten, and some titles will give you the opportunity to dive deep into commercial fishing… from the comfort of your home.
Fishing: North Atlantic – Scallops, launched almost a year ago, is a PlayStation 4 game – or simulation, if you prefer the term – that expands on the original title and gives you 3 new boats to add to the 27 included in the base title. The three new vessels, from a small vintage to a full-size scallop dredge, include vessels like the F/V Viking Power or the F/V Ocean Scout, from new license partner, USA. Fleet fisheries.
The new title, Fishing: North Atlantic – Scallops, features a huge map of Nova Scotia, Canada (200x300km) with six realistic ports, and a unique experience: scallop mechanic, crane control and operation to set up, haul and empty the dredge nets, sort and clean scallops. The simulation includes a depiction of a key Fleet Fisheries vessel: the F/V Viking Power, a new state-of-the-art fishing vessel that is part of Fleet Fisheries Inc.
Launched on June 8, 2019 in Alabama, where the fishing vessel was built, the F/V Viking Power is now actively fishing sea scallops from the US seaport of New Bedford, Mass. In the simulation, you can choose this vessel and see all the things that make it stand out, from the unique shape to the hydraulic A-frame winches that drop the scallop dredges in the water and then bring them back to the deck, which is also intended to improve efficiency and safety.
Fishing: North Atlantic, the original simulation
Like previous titles in the series, Fishing: North Atlantic – Scallops introduces you to an atmospheric and realistic game world based on real maps, boats and fish species.
Nova Scotia is not only known for its rich stocks of fish such as bluefin tuna, lobster and swordfish, but it is also home to one of the largest scallop fishing industries in the world, and it is the key element of this DLC, Fishing: North Atlantic – Scallops, which expands on the base product, Fishing: North Atlantic.
Launched in June 2012, Fishing: North Atlantic, which is the base simulation, features a total of 27 real craft boats available from fishing industry licensing partners including AF Theriault & Son, Skipasyn, Scanmar, Hermes , Selfa and Moen Marin. The vessels available can be used for all types of fishing styles and fishing techniques like spearfishing, which is used to hunt swordfish and tuna.
Start by spearing, then progress to setting deep lines, catching snow crab or lobster. As well as longline, net and trawling. Do you have what it takes to complete this difficult task?
The base map is the same as the Scallops DLC: a huge portion of Nova Scotia, Canada (200x300km) with six realistic ports. It gives you a virtual window to admire the great diversity of ocean life, exploring fishing grounds with upgradable ships and equipment as you progress in your career.
Barents Sea, where it all began
The whole series started in 2018, when Fishing: Barents Sea was released, followed by two DLCs expanding the base title: Our Line and Net Ships and King Crab. In Fishing: Barents Sea Here you will experience the life of a fishing boat captain, starting with a small boat inherited from your grandfather, earn money by fishing with longlines, nets or trawl, buy upgrades, bigger and better fishing boats like trawlers and much more.
Fishing: Barents Sea introduced the main features that made the series an interesting simulation: an atmospheric and realistic game world, with a day and night cycle, seasonal effects, advanced resources and a weather system. Everything is calculated from real maps, real boats, real fish, including age, breeding grounds, depth, fishing quotas and much more.
The player is challenged to experience an open world environment around Hammerfest in northern Norway, maneuvering a fishing boat around the map to find the best fishing spots using sonar, a radar and a GPS. Visit various ports, hire crews or apply for missions, enter the dock to repair or upgrade your ship, go to the bank for a loan or to the store to buy supplies.
Fishing: Barents Sea – Complete Edition is a commercial fishing game/simulator and is available for PC/Steam/Xbox One/Playstation 4/Nintendo Switch!
Using GPS and Sonar
Fishing: North Atlantic took the experience a step further, with new weather systems with improved atmospheric effects, North American vessels, and fishing techniques like harpoons, deep buoy fishing, and lobster traps . Buying bigger boats and better gear will increase your fishing skills.
Search for the best soil with all-new mini-games. Use cranes to prepare, transport and empty dredge nets, control drums to lower and raise dredge nets aboard your ship. Sort and keep a steady hand while cleaning the scallops, before storing them fresh at the hatch of your boat. Return to the port to earn money!
Plan the course of your fishing career throughout the year: brave the rain and snow while finding the best fishing spots, but make sure you don't risk exceeding your quotas! The new advanced fish-AI will require the use of GPS and sonar to track the movement of your prey based on weather and season.
Some key features of Fishing: North Atlantic
Fishing Methods – Spearfishing, Deepline, Lobster, Crab, Longline, Net, Trawl
Fish species – swordfish, tuna, lobster, snow crab, cod, haddock, pollack, redfish, mackerel, silver hake
Advanced water shader and weather system, with realistic weather data of the region
Dynamic Fish Prices – Other fishing boats will also catch and deliver fish to ports, affecting prices
Dynamic Fish Habitats – Fish will swim around the map through the annual seasons
Developed by Misc Games, a Norwegian company that aims to treat video games "like art rather than toys" and wants to "develop games primarily for the more mature and educated gamers", the Fishing series is an example of the team's goal: to become the world leader in ship simulation games.
One final note: although only available on PlayStation at launch, the Fishing: North Atlantic series is now also available on PC and Xbox.