Lack of coordination between India and Bangladesh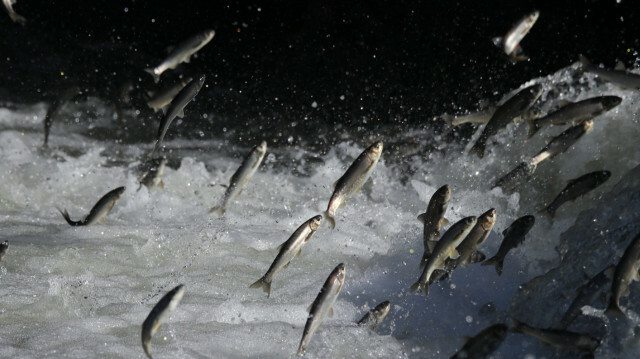 Embargo imposed by these countries at different times on the capture of hilsa fish in the Bay of Bengal to allow the reproduction of unimportant prohibition sheets

Even though Bangladesh observes a 65-day ban on catching hilsa fish to allow reproduction, fishing continues on the Indian side leaves the ban moot, experts say.
Hilsa is a popular fish among the Bengali people living in Bangladesh and neighboring India.
India also imposes an embargo on fishing this prized catch, but at a different time.
While Bangladesh observes a ban from May 20 to July 23, India imposes the embargo from April 15 to May 31, then from September 15 to October 24 on fishing at sea and in the country's main rivers each year.
Therefore, experts urge the two countries to coordinate and observe embargoes at the same time to allow fish to breed in peace in the Bay of Bengal and major rivers.
Speaking to Anadolu Agency, Golam Mostofa Chowdhury, president of the Barguna District Fishing Trawler Owners Association (BDFTOA), said that while Bangladesh banned fishing, Indian trawlers had a day on. the land for catching fish in the sea.
"Both countries use the same sea to catch Hilsa fish. Embargos must be observed by both countries simultaneously," he said.
He said Bangladesh and India need to coordinate and save the hilsa fish, which live in the sea, but during the June-September monsoon it travels to rivers to spawn.
"As Bangladesh and India are the closest neighbors and the two countries currently enjoy the warmest diplomatic relations, I hope the government will immediately negotiate with India on this issue," Chowdhury said.
He said Indian trawlers entered Bangladesh's maritime territory quite often – sometimes due to bad weather and sometimes intentionally.
Almost every year dozens of Indian fishermen are arrested by the Bangladeshi Navy and Coast Guard.
In early September, the Bangladesh Coast Guard arrested 13 Indian nationals with a fishing trawler for illegal trespassing in Bangladeshi waters.
"We want our 200 nautical mile (370 kilometer) maritime territory to be safe, secure and completely dedicated to us without the intrusion of foreigners," said Fatima Parvin, vice-president of a local government union council in the southern district of Barguna. Anadolu Agency.
-Requires a long-term national policy
Referring to the demand of millions of coastal people and the general interest of the country, Parvin called on the government to adopt a strong and long-term national policy to preserve the Hilsa fish.
Experts believe that overfishing and lack of coordination between India and Bangladesh have decimated Hilsa stocks.
Like other thousands of fishermen, Aminul Islam Idris, 50, had invested in two trawlers by granting loans in the hope of fishing and selling Hilsa fish.
Nearly 10 million people in 24 coastal districts of Bangladesh depend directly and indirectly on this fish, according to a local fish trade body, according to the BDFTOA.
"Around 100,000 small and large trawlers and boats currently fish in the Bay of Bengal and the country's major rivers, while around 500,000 fishermen are directly engaged," Chowdhury said.
In addition, tens of thousands of businessmen are involved in the processing and marketing of Hilsa while thousands of workers were entirely dependent on this large market for their livelihood. There are also thousands of trawler machine repair and manufacturing shops.
"Whenever there is a shortage of Hilsa in the sea, we have no money and we suffer from hunger," said Mohammad Sarwar, a local fisherman from the coastal district of Barguna.
Bangladeshi Hilsa Padmar Ilish (Hilsa from the Padma River) considered top quality is considered a delicacy in the Indian state of West Bengal.
According to a study conducted last year by the University of Jadavpur in West Bengal, some 15,000 trawlers hover in the migratory path of hilsa, causing its stocks to decline.