Maldives Fisheries Minister Hussain Rasheed Hassan hopes for tuna recovery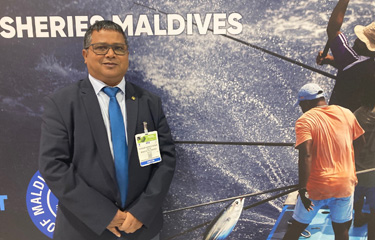 After two extremely difficult years during the COVID-19 pandemic, the Maldives is seeking to restore its tuna exports to pre-pandemic levels, according to Maldives Fisheries Minister Hussain Rasheed Hassan. Hassan told SeafoodSource he hopes for a post-COVID turnaround for his country's tuna industry and explained how his country's government is working to implement tougher controls on the country's fishing fleets. Indian Ocean to ensure the sustainability of ocean tuna species, including a decision to transform the G16 group of Indian Ocean coastal states into a driving force for sustainability-driven policy.
SeafoodSource: How has the Maldives seafood sector been affected by the COVID-19 pandemic?
Hassan: Much of our economy relies on tourism, but tourist arrivals just plummeted and eventually came to a halt at the onset of the COVID pandemic. At that time, there was no practical employment outside the government sector. But our fishermen were still fishing, and the reason is that the tuna fishery is not only for export to the Maldives, it is also the main source of protein for us. But for us, the challenge was in our fresh yellowfin tuna export business, as we lost most of our flights to and from the country during the pandemic and the cost of air and sea transport increased astronomically. The cost of shipping a container of frozen tuna has been multiplied by two, three or even six times. So it was really a very difficult situation, but despite all that, our fishermen continued to go fishing and bring in fish, and because employment was so critical, the government helped the industry to buy the fish by providing funding. And the industry has faced the challenge of having to do new things with all that product, whether it's freezing the fish or turning it into canned tuna.
SeafoodSource: Do you see a recovery in 2022?
Hassan: We are just coming out of the pandemic. Tourism has resumed. Thankfully, our COVID numbers have really come down and most of the measures that have been implemented to counter the spread or stop the spread of COVID have taken off and are now accepted as normal. But still, freight rates remain very high. As a result, the fishing sector remains badly affected. And there are new challenges, like the war between Ukraine and Russia, but we have managed to face these challenges. This shows the resilience of the Maldivian economy and the fisheries sector, but at the same time we remain very vulnerable due to the nature of our industries.
SeafoodSource: At the start of the pandemic, the demand for seafood, especially canned seafood, skyrocketed. Have the Maldives been able to take advantage of it? Or could exporters not get their products out of the country?
Hassan: Yes, there has been a surge in demand for canned goods during the pandemic. And we exported a lot more canned tuna. But the biggest problem for us is our constant struggles to access the European market because we are faced with higher tariffs and because people are buying bulk products, cheaper products. We produce premium products and on top of that there are higher customs duties on Maldivian products. Thus, products from Mauritius and the Seychelles are cheaper and more readily available in Europe. This prevented us from taking a big advantage of the surge, but our exports still increased.
Tuna in the Indian Ocean is mainly caught by purse seine, and tuna caught by purse seine is cheaper, as each purse seine vessel employs perhaps 50 people and can fish up to 100,000 tons per year . But in the Maldives, we have 750 vessels and we employ 17,000 pole and line fishers, which means the tuna are caught one by one by hand. When cheap fish is dumped on the market, it will of course have an effect on premium products like ours, especially when we face tariffs from the European Union. It's sad to say that you know, of all developing countries and small island developing states, the Maldives is the only country in the Indian Ocean that faces such heavy obligations to the European Union. We pay 18, 20, 22% on certain products, which effectively means that our products are more expensive and put our products at a disadvantage. At present, only environmentally conscious and conservation conscious people buy the premium product we sell, and ultimately price is what matters to most people.
SeafoodSource: Are negotiations underway with the EU to reduce tariffs?
Hassan: We are working with the European Union and other countries to get better access to their markets, but unfortunately what we are seeing today is that market access is also somewhat tied to access to the tuna resource. We don't allow anyone to catch tuna with nets in our waters – it is actually illegal to catch any fish with nets in our country. So we've been fishing tuna very sustainably, as we've been doing for a millennium, and we've been coexisting sustainably with the ocean and fishing for that long history.
But now we see Indian Ocean albacore and yellowfin tuna stocks declining to dangerous levels. We believe that if we collectively fail to take corrective conservation action, even skipjack stocks will suffer the same fate. So we are very concerned about this, but the tunas are not managed by a single country, but rather collectively managed through the Indian Ocean Tuna Commission. But we have seen the IOTC fail on the whole to preserve tuna stocks in the Indian Ocean. We are doing what we can to rectify the problem to ensure that our tuna stocks remain healthy, but ultimately it is up to all other IOTC members to implement conservation measures as well.
SeafoodSource: How do you persuade other countries to do things better and come to a consensus to make changes that will make the fishery sustainable in the long term?
Hassan: In a nutshell, the interests of the countries involved in the IOTC differ. Some people really want short-term gains. But I think the way we implement IOTC resolutions by unanimous consent is not working, because all it takes is a few countries saying no for any progress to fail. The reform of the IOTC is therefore extremely important. Without reforming the IOTC, I don't think we can bring about meaningful change in the Indian Ocean and save the fate of tuna stocks. In addition, it is also important that the Indian Ocean coastal countries work as a group to understand each other's interests and recognize our differences and develop management strategies that allow as many countries as possible to have their interests satisfied by our management options. Then, if countries make informed decisions based on this type of assessment, I think we will be in a better position. We call for formalizing the G16 of like-minded Indian Ocean coastal states into an official agency of coastal states that will formulate policy assessment that will inform better decision-making, such as the Forum Fisheries Agency. Pacific Islands in the South Pacific.
SeafoodSource: What hope do you have for the future of the tuna industry in the Maldives?
Hassan: As I said, the Maldives is built around tuna and tourism. If we don't have sustainable fish stocks, we won't have a fishing fleet and we won't have an economy that works the way it does now. We have no other resources to rely on. That's why we put so much concerted effort into tuna management. We have no other option. So our strategy is actually perseverance to bring about the change we need. I think the answer is that we have no choice but to be optimistic.
As I said before, tunas are very, very important for food security as well as for trade. Tuna is also a way of life for us. We eat it in the morning for breakfast. We also have tuna for lunch and curry for dinner as well. So for our lives and our jobs, we are not going to give up. I don't think we will ever give up our tuna fishery.
Photo courtesy of Cliff White/SeafoodSource